BERKEY WATER PURIFIERS
Do you want to ditch a polluting plastic bottle, replace an expensive lambda filtration method, or go the purification route to stay safe from water hazards?

The Berkey Purification System is the leader in gravity-fed water purification for both drinking and non-drinking water.
What does Berkey eliminate
Berkey water purifiers remove impurities to provide clean, healthy water using powerful, easy-to-use technology to remove bacteria, viruses, heavy metals and chemicals.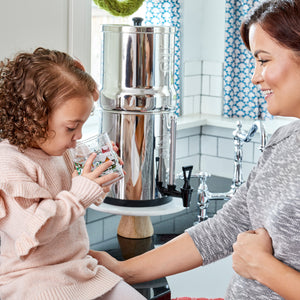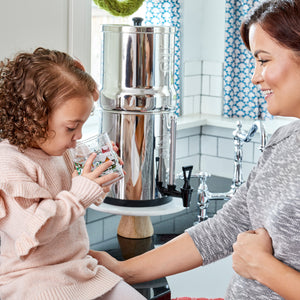 The combination of performance, elegance and durability.
SUSTAINABLE
A pair of filters has a lifetime of several years, they purify up to 22,700 liters of water. The stainless steel casing is robust and repairable.
ECONOMIC
The Berkey solution is probably the most economical on the water treatment market. The cost of a pair of filters represents 0.009€ per liter purified.
EFFICIENT
Berkey systems purify drinking and non-drinking water, they drastically reduce bacteria, viruses, heavy metals, drugs, etc...
Let customers speak for us
Excellent !
I am a Biologist and Functional Health Practitioner, I use and recommend Berkey Purifiers to all of my clients. Filtering your water is the first essential investment for good health! I highly recommend Berkey over other filtration systems because it retains valuable minerals in the water while removing harmful things for optimal health such as heavy metals, pharmaceutical residues, microorganisms, chlorine , etc.
Customer service at the top!
The Berkey team answers all questions. Thanks for your help. Can't wait to use my Berkey!
Safe and very good customer support
Easy to use website and responsive customer service!
Berkey Europe
Water quality
With Berkey, you no longer need to worry about the quality of the water you drink!
And the design! Perfect! You can put it anywhere!!
Still so great!
Bought a set of filters (for my spare stock). Delivered quickly as usual! THANKS
Berkey Europe
Qualitative
For water safety this is the best.