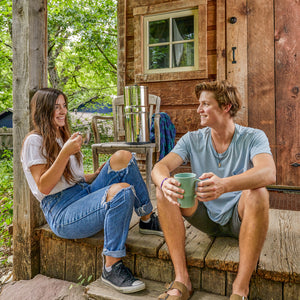 RESULTS AND REPORTS OF LABORATORY TESTS
RESULTS OF LABORATORY TESTS
Black Berkey® Purification Elements, which have been laboratory tested, remove or significantly reduce the contaminants listed below:
Many water filters on the market may claim to be a water purifier, but they do not meet the performance specifications required for this classification. To be classified as a water purifier, a water treatment device must remove at least 99.9999% of pathogenic bacteria and reduce viruses by 99.99%. Black Berkey® purification elements can be classified as water purifiers because they eliminate 99.9999% of pathogenic bacteria and 99.999% of viruses, which far exceeds standards. Tested by approved laboratories.
VIRUSES – >99.999% removed
Exceeds purification standard (log 4):
MS2 Coliphage; En Coliphage
PATHOGENIC BACTERIA (AND SURROGATES) – >99.9999% suppressed
Exceeds purification standard (log 6): Bacillus atrophaeus (anthrax substitute); Raoultella terrigena (substitute for pathogenic bacteria); Salmonella Enterica.
TRIHALOMETHANE – Removed to >99.8%
(Below detectable limits):
Bromodichloromethane; Bromoform; Chloroform; Dibromochloromethane.
INORGANIC MINERALS
Removed below laboratory detectable limits:
Chloramine; Chloride; Residual chlorine (total residual chlorine); Chlorine.
HEAVY METALS (high and low pH levels)
Aluminum (>99%); Antimony (>99.9%); Barium (>80%); Beryllium (>99.9%); Bismuth (>99.9%); Cadmium (>99.7%); Cobalt (>95%); Chromium (>99.9%); Chromium 6 (>99.85%); Copper (>99.9%); Iron (>99.9%); Lead (>99.9%); Mercury (>99.9%); Molybdenum (>90%); Nickel (>99.9%); Vanadium (>87.5%); Zinc (> 99.9%).
PHARMACEUTICAL CONTAMINANTS, DRUGS – Removed to >99.9%
Acetaminophen; Caffeine; Carbamazepine; Ciprofloxacin HCl; Erythromycin USP; Sulfamethoxazole; Trimethoprim; Bisphenol A; Diclofenac sodium; 4-para-nonylphenol; 4-tert-octylphenol; Primidone; Progesterone; Gemfibrozil; ibuprofen; Naproxen Sodium; Triclosan.
ALSO ELIMINATE OR REDUCE:
Arsenic (>99.9%); Escherichia coli (E. coli) (>99.999%); Fluorene (>99.9%); Manganese (>99.9%); MBAS (>96.67%); PCBs (>99.9%); Petroleum products (gasoline, diesel, crude oil, kerosene, mineral spirits, refined petroleum – all >99.9%); Selenium (>99.9%); Thallium (>99.5%); Rust; Silt; Sediment; Turbidity; Tastes and smells.
BLACK BERKEY AND PF-2 TEST REPORTS: